Serbia is not a 100% liberal nation. It is extremely traditional, and if we are totally honest, there might be some complexities regarding gay acceptance. On the other hand, being the main capital city of Serbia, it has many benefits because Belgrade, compared to other Eastern European countries, is much safer for gay travellers.
While years ago the Belgrade Pride suffered bans, the last four successive parades have passed with no incidents; that is a massive hope and development for the future.
There are a lot of places in Belgrade which are gay friendly and safe. A lot of gay-friendly cafes, bars, and clubs are beginning to operate in this city. While there is no strictly gay venue, the places mentioned are incredibly inclusive as well as everyone is welcome with an open mind and open arms.
Gay-Friendly Clubs and Bars in Belgrade
Visiting Belgrade must be included in your bucket list, as you will be bombarded with many things to do and see. One of the best highlights of the gay Belgrade tour is visiting some of the best bars and clubs in the area. Here are some of the gay-friendly bars and clubs in Belgrade that you must give a try.
Smiley bar
One of the best and most gay-friendly bars is the Smiley Bar. It literally welcomes everyone into joining the party! This is a cute and small queer bar located beyond Hotel Moskva. Since this is a small bar, expect it will be crowded when the dawn comes and on Friday and Saturday nights when the place becomes a discotheque.
Right close to the entryway, a small stair will lead you to the acute and small gallery that is a perfect place to drink your favourite tea and coffee during the day. During the summer season, the windows of the bar are opened, so normally, people stand outside of this bar in the passageway.
Pleasure Club
This is considered one of the oldest gay clubs in Belgrade. This is an ideal destination to dance all through the night to techno and pop music. This club is composed of a two-story building and is just open on Saturday and Sunday. Later at night, this club often plays Serbian folk songs.
Club Musk
This is also one of the best and friendliest gay bars located on a patio off the road in the core center of the city. Club Musk in Belgrade is nicely accentuated as well as has an amazing and reasonable selection of drinks. Here, you can find the best drinks in the whole area. This gay club in Belgrade has seating and a small dance floor where you and your partner can dance.
Saunas
Aside from gay bars and clubs, there are also saunas in Belgrade to pamper yourself after a tiring tour in the area. The best thing about these saunas in Belgrade is that they are not just gay-friendly but also offer the best services you will ever find in the area.
Red Line
One of the best saunas in Belgrade is the Red Line. This sauna welcomes men who are in search of a secure, hygienic, and discrete place to meet, date, and experience amazing fun. What makes this sauna apart from the rest is that it provides a steam room to relax, a jacuzzi to get rid of stress, as well as friendly and cute masseurs. Also, you can relax in the lounge while drinking your favourite drink. It's likely to stay for a couple of minutes or a few hours to relax; the choice is all yours.
Cruising Areas 
This is also one of the many reasons why many gay men go to Belgrade. Cruising is a must-do activity in the city that you and your friends must experience. Savka is a popular lake that is surrounded by a renowned and big recreation zone.
When you go to the southern part of Belgrade, you'll see good restaurants and bars. Opposite the fancy side of this lake, you'll see a lot of alternative bars and nudist beaches. This area of the beach has a very welcoming setting and is also renowned amongst the gay community.
A lot men meet at the rear of the beach. It is relatively a long stroll from the station; therefore, if you like to visit this nudist beach, you might as well hire a bike on the eastern part of the amazing and stunning island.
Belgrade Queer Events
If you are planning to visit Belgrade, you shouldn't miss some of the best gay-friendly bars, clubs, as well as gay-friendly beaches. On the other hand, aside from these, make sure you don't miss the different queer events. Some of the gay events you must not miss during your visit to Belgrade are as follows: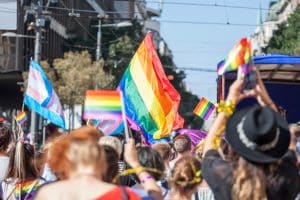 Belgrade Pride
This is a very popular event happening in the city yearly. Belgrade Pride is a popular association discovered in 2010. This organization has organized many events since then. The Pride Week has collected many international artists from different parts of the world who deal with creative and artistic practices.
Sad to say, Pride Parade has been prohibited many times in the last few years. On the other hand, the organization profoundly believes new pride parades will happen in the coming years. The organization of the said event also organizes a book club on a weekly basis held at the gay info center.
Rainbow Party Belgrade
The Rainbow Party Belgrade hosts monthly parties for the gay community residing in Belgrade city. The party is set up by a group of enthusiasts with a background in gay activism and is renowned for a more diverse music taste than you hear at other parties in the area. Aside from pop classics, you will also hear a mixture of house, disco as well as indie films. This is open to everyone, as it is straight-friendly too.